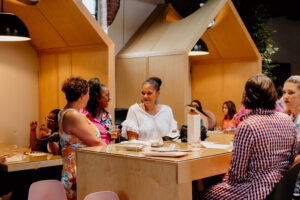 IMPRESS CLIENTS. INSPIRE YOURSELF. A COWORKING SPACE TO MAKE IT HAPPEN.
We believe you should love coming to work every day. Through our carefully curated and inspiring coworking spaces, members discover their most productive self. Whether you're running a company or a remote employee, you deserve work environment that elevates you to your next level.
A FEW OF OUR FAVORITE OFFERINGS

INSPIRING COWORKING SPACES
Enjoy carefully curated spaces that inspire you to be your best self.

INTENTIONAL PROGRAMMING & MEMBER EVENTS
Whether it's a finance workshop on Tuesday, a mental health speaker on Thursday or a power yoga class on Saturday, we want to uplift and inspire every version of you.

COMPLIMENTARY COFFEE & TEA BAR
Power up with a hot cup of joe or sit and sip awhile with a soothing cup of tea.

A COMMUNITY OF COLLABORATIVE WOMEN
Collaborate and connect with growth-minded women who are on similar journeys.