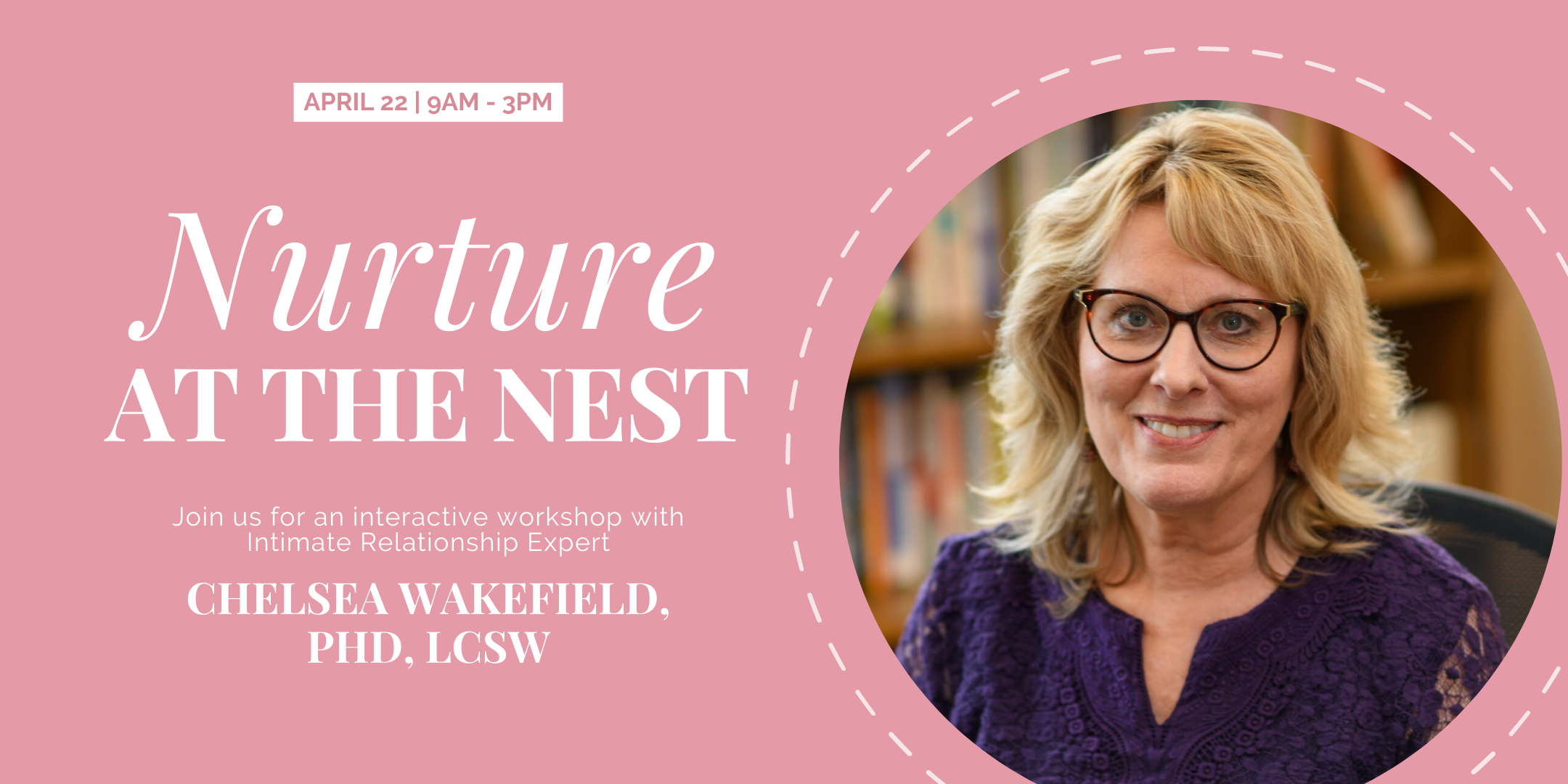 Nurture at The Nest
Refresh Your Relationships
Intimate Relationship Expert Chelsea Wakefield, PhD, LCSW, is known across the country for her deep-dive knowledge into what makes relationships work…and fail. As one of the region's top relationship therapists and author of several books, she has many success stories of people overcoming connection challenges.
We are beyond thrilled to offer a women-only, one-of-a-kind intimate and private workshop with Chelsea to do some spring cleaning on your relationships. We know those closets are screaming for you, but, trust us, spending some time on refreshing your love life is most important!
The lucky participants will spend a day with Chelsea learning about the six "love capacities" that we can each develop that promote meaningful connection, reduce conflict and defensiveness and will make any partnership more wonderful. 
Whether you are married, have a significant other or are looking for love, you'll learn how Commitment, Courage, Curiosity, Communication, Compassion and Creativity will help you improve your relationship with yourself and others.
Engaging in this interactive time with Chelsea will help you:
Better understand that "loving deeply" means moving beyond disenchantment and working with the raw materials of what makes love work. 
Learn why relationships are a "third entity" beyond "you and me." They need to be created, nurtured and periodically recalibrated.  
Practice communication tips that really work – talking so your partner will listen and listening so your partner will talk.
Learn how your inner narrative determines what you see, feel and how you react – change the narrative and everything changes.
Examine activities that deepen love – what are your best returns on investment of time, energy and money? 
Learn exercises in self-compassion, helping you heal and renewing your energy. 
Identify the real blocks to sexual intimacy and how to transform them. 
Ticket Information:
Members: $125
Non-Members: $199
Boxed lunches from Community Bakery will be included in your ticket price.
Chelsea Wakefield, PhD, LCSW is an expert on intimate relationships. She is a long-time researcher on the heart-art of love and how to create meaningful, enduring relationships. Chelsea teaches couples therapy as the Director of the UAMS Couples Center, and has a private practice at Plaza West where she works with all kinds of couples looking for ways to resolve conflict, heal the hurt and rekindle the romance. She hosts an annual retreat called the Luminous Woman, and is the author of several books, including "The Labyrinth of Love: The Path to a Soulful Relationship" and "Negotiating the Inner Peace Treaty: Becoming the Person You Were Born to Be."