The Nest was built with the goal of empowering you with knowledge to help you live your best life…on your terms. Join us on April 21 from 5:30-7 p.m. for our April Nest at Night event, Prosecco & Pelvic Health, while we get real about our pelvic health.
We've enlisted the help of three incredible female doctors from CHI St. Vincent who will answer your questions and help us take control of our pelvic floor. Whether you've had a baby or not, whether you're in your 20s or 60s, urogynecology is a thing and you deserve to feel your best no matter what stage of life you're in.

We can't wait for you to meet these amazing female physicians who are championing the health of women in our community.These talented physicians have years of fellowship training and certification in female pelvic medicine and reconstructive surgery. They offer evaluation, diagnosis and treatment for a range of conditions such as female pelvic organ prolapse, overactive bladder, urinary incontinence, fecal incontinence, vaginal fistulas and recurrent UTI. If you miss them at this awesome event, just find them at the CHI St. Vincent Urogynecology Clinic on the campus of St. Vincent Infirmary in midtown Little Rock!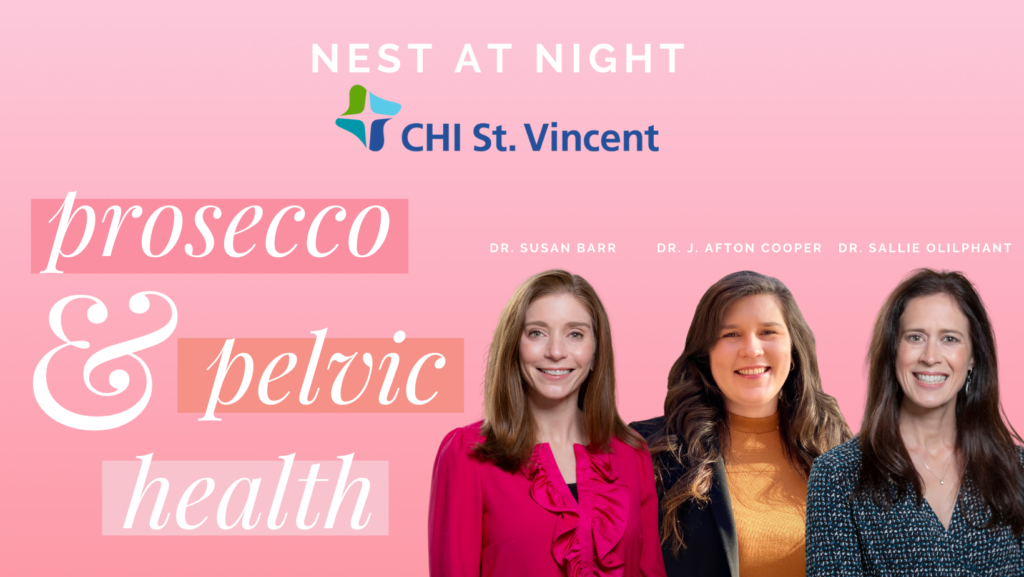 Meet Susan Barr, M.D.
Dr. Susan Barr is a native Arkansan. She attended medical school at UAMS and completed her residency as well as advanced training in urogynecology at St. Louis University. Dr. Barr launched the Female Pelvic Medicine & Reconstructive Surgery division in the Department of Obstetrics and Gynecology at UAMS. She joined the CHI St. Vincent Medical Group in 2018 and currently sees patients at the CHI St. Vincent Urogynecology Clinic in Little Rock.
Meet J. Afton Cooper, M.D.
Dr. J. Afton Cooper specializes in gynecology surgery and completed her fellowship in minimally invasive gynecologic surgery at the Cleveland Clinic. Dr. Cooper is a certified Da Vinci System Console Surgeon performing robotic-assisted procedures and is also certified by the American Board of Obstetricians and Gynecologists. She is a graduate of Hendrix College and earned her medical degree from the University of Arkansas for Medical Sciences. Dr. Cooper currently sees patients at the CHI St. Vincent Urogynecology Clinic in Little Rock.
Meet Sallie Oliphant, M.D.
Dr. Sallie Oliphant is board-certified in both Obstetrics and Gynecology and Female Pelvic Medicine and Reconstructive Surgery. She is an active researcher focused on maternal pelvic floor adaptation and injury and surgical outcomes in urogynecology. Dr. Oliphant is a Fellow of the American Congress of Obstetricians and Gynecologists and a member of the American Urogynecologic Society. Dr. Oliphant currently sees patients at the CHI St. Vincent Urogynecology Clinic in Little Rock.